Although The Bayfield County Courthouse is currently limiting access to the building,
We are Still here for you!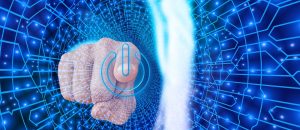 Our Extension staff will be working remotely,
and they will be checking their phone messages and their emails.
Please leave them a message.Contact information is listed below.
Our Educators are also working on ways to bring programming to you in new and different ways! 
We want to reach out to each of you to offer support and resources in this uncertain time. While circumstances are changing frequently, what remains stable is our commitment to offer you the research and resources of the UW-Madison Division of Extension.
Remember, we are in this together.
We will be posting resources here as well as on our Facebook Page, Twitter, and Instagram accounts. . Please like and share as much as you feel appropriate
Resources
Here are a few resources you may find useful.

COVID-19 
Bayfield County Health Department – Local Updates
Bayfield County COVID-19 Response Hub -This page provides information, maps and resources about the coronavirus response in our local area.
Finances
The COVID-19 Financial Resources from UW-Madison Division of Extension offers links to many government sites and other resources where you can turn for more information on topics like applying for public assistance, low-interest small business loans, and more. Check back as this page will continue to be updated frequently.
Small Business Finances
Weathering the Storm: Guidance for Small Businesses – Free Class – Registration is Required!  Monday, April 6, 2020 ~ Noon to 1:00 pm ~ Would you like more information on the Economic Injury Disaster Loans, or the Paycheck Protection Program? Andy Donahue, Director of the Small Business Development Center, will provide a 30-minute overview of the programs and resources available, with a Question and Answer time to follow.
Wisconsin Economic Development Association (WEDA) announces targeted grants to Wisconsin-based Community Development Financial Institutions (CDFIs) for small businesses suffering losses due to COVID-19 emergency
Small Business Administration (SBA) Small business owners in all U.S. states and territories are currently eligible to apply for a low-interest loan due to Coronavirus (COVID-19). Learn more here.
FTC Warnings As we've seen with other disasters that have taken place, scammers are taking advantage of people's vulnerability. Learn more here
Parenting
Many parents are quickly trying to secure care or assess if their children are ready to be home alone. Please share this online (free) program that Extension has developed. Home Alone Online.  
Families are figuring out how to live, learn and work—together and separately—all under one roof. Check out some great advice at Education on the Home Front: How to Keep Young Children Learning in the Early Days of COVID-19 . 
The April Co-Parenting class for divorcing or separating parents will be held on April 27,2020 via Zoom.
COVID-19 Child Care Resources – The Department of Children and Families (DCF) has compiled resources to help essential workers, providers, and families navigate the child care landscape during the COVID-19 crisis.
Farm Related Resources
Farmers have unique challenges with the rapidly spreading COVID-19. Make sure your employees understand that your primary concern is their health and the health of their families, and measures are in place to ensure long and productive careers at your farm. Guidance for farm employers COVID – 19 (pdf, 1pg,212KB)
Farm Produce Safety Plan Workshop: ONLINE. Free. April 7, 2020 at either 9 am or 5 pm. Only one registration is required per farm.
This program is free, but registration is required. This workshop we will focus on writing a produce safety plan for your farm.
This plan will help you to create standard operating procedures (SOP's) and record keeping strategies that will help you to fulfill the reporting requirements of the Food Safety Modernization Act (FSMA) Produce Safety Rule. This training is not the training required by the FSMA Produce Safety Rule and will not result in certification.
The Wisconsin Farm Center provides information and support to farmers and their families in order to help grow Wisconsin's agricultural economy. The Center partners with industry groups, government and educational entities, and other stakeholders in the agriculture sector. Farmers and small agribusiness owners can reach the Farm Center through the toll-free line at 1-800-942-2474. You can also contact the Farm Center by email at farmcenter@wisconsin.gov
Stress/Well-Being
This time of social isolation can be incredibly difficult for us and those we love. This Tip Sheet on Self-Care describes what to expect and ways to mitigate the stress. It also reminds us to take time to be outside each day, connect with loved ones, practice gratitude and get some exercise. Yoga, breathing and meditation (even one big deep breath) can decrease your body's response to stress.
Food Safety – The coronavirus that causes COVID-19 is a respiratory virus. While the Centers for Disease Control does not consider COVID-19  to be a foodborne illness, there are actions that you can take to prevent foodborne illness that appear effective in fighting the coronavirus.
Maintaining Social connections during Social Distancing is important to our health. Here are a few tips on maintaining Human Connections (pdf,1pg, 435KB)
We are here with you, reach out if you need us.
Thank you for your patience as we work through this situation and find new methods to bring our programming to you!
Extension Office is Working Remotely (PDF, 1 pg 314 KB)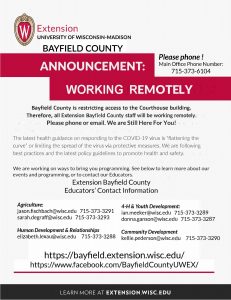 An EEO/Affirmative Action employer, University of Wisconsin-Extension provides equal opportunities in employment and programming, including Title IX and ADA requirements.
La Universidad de Wisconsin-Extensión, un empleador con igualdad de oportunidades y acción afirmativa (EEO/AA), proporciona igualdad de oportunidades en empleo y programas, incluyendo los requisitos del Titulo VI, Título IX, y de la Ley para Americanos con Discapacidades (ADA).