We are Still here for you!
Live Online via Zoom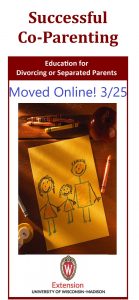 The next co-parenting education class will be a live Zoom video conference which is scheduled for:
Monday, April 27, 2020 from Noon – 3:00 pm.
An internet connection, webcam, microphone and active participation are required to certify course completion..
Registered students only.
If you have any questions, please contact the following Extension Educators
Jan – June 2020 Successful Co-Parenting Brochure-Updated 3-20-20