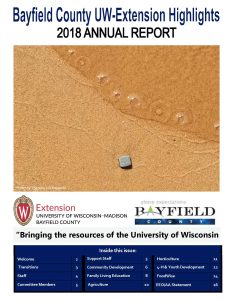 This report  2018 Highlights Annual Report  (pdf, 16 pages, 20MB)  showcases some of the accomplishments of our Extension Bayfield County Educators during this past year.  Take a moment to look through this report to discover the broad range of programs that were conducted and how they have made a positive impact on peoples' lives.  Through a partnership between Bayfield County and the University of Wisconsin Division of Extension, our educators and staff have delivered information and programs in the following areas:
 Agriculture,
 Natural Resources,
 Community Development,
 Health & Well-Being,
 Human Development & Relationships, and
 Positive Youth Development
Their programming and research is supported by statewide and regional specialists, as well as county-based colleagues around the state. The Division of Extension administrative and operations offices, located in Madison, provide program and financial support, technology, communications and other support to further the Wisconsin Idea.
The Wisconsin Idea signifies the university's commitment to public service and the concept that education should influence peoples' lives beyond the boundaries of the classroom.
"An EEO/AA employer, University of Wisconsin Extension provides equal opportunities in employment and programming, including Title IX and ADA requirements.