June 29 – July 1, 2019

The theme this year is "Hawaiian Getaway"
and our program will be full of fun related activities.
Sorry registration is closed. 
Please turn in your completed & signed
to the Bayfield County Extension Office before 4 pm on June 21, 2019.
If you are a young person in grades 3-8, you are invited to be part of this year's 4-H Camp, June 29-July 1 at Camp Northwoods in Delta. This will be our fifth year at this location. The camp is in a beautiful wooded area, has nice facilities, a great lake for swimming and boating, a group campfire area and all of the regular amenities.  As always, the camp program will include swimming, arts and crafts, canoeing and kayaking, campfires and singing, nature education, skits, and large and small group games.
The theme this year is "Hawaiian Getaway" and our program will be full of fun related activities.
Campers will arrive between 9-10 a.m. on Saturday morning, June 29. Two nights will be spent with kids of the same age group and gender in a troop house that houses up to 22 or a yurt that houses 12. Check out will be the afternoon of Monday July 1.
Campers will be supervised by trained high school age counselors,  4-H Youth Development staff from Ashland and Bayfield Counties, and 4-H certified adult volunteers.
The cost for camp for the 3 days is $70 if you are a 4-H member,
$85 if you are not a 4-H member.
Registrations were due June 14th. 
Sorry, Registration is now closed. 
Check with your club to see if they provide scholarships. Further scholarship opportunities are available for families with more than one child attending camp or with financial need. If your child or someone you know needs this assistance to be able to attend, please don't hesitate to request it on your registration form or call the 4-H office. Requests will be kept confidential.
If any type of scholarship monies is to be sent to Extension Bayfield County to assist with the cost of camp, Please use the traditional form of registration and payment
Never been to camp before? Check out what these kids and their parents had to say about last year's camp:
I had a good time at camp because I was with my friends. I made more friends. I loved the theme. I had the best counselors ever and I got to do amazing things, and I got the best top bunk
Swimming was AWESOME, kayaking was AWESOME. It was all AWESOME
The camp was fantastic! My son had a wonderful time and definitely wants to do it again next year. Very nice facility, such nice people, and a great value as always in 4H.
We look forward to spending time with your kids!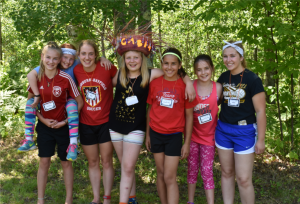 Ian Meeker 
4-H Youth Development Educator
County Administration Bldg
117 E. 5th Street
Washburn, WI 54891-9464
Phone: 715-373-6104 Ext 249
Fax: 715-373-6304
ian.meeker@wisc.edu
Donna Ganson
4-H Program Faculty Assistant
County Administration Bldg
117 E. 5th Street
Washburn, WI 54891
Phone: 715-373-6104 Ext 250
Fax: 715-373-6103
donna.ganson@wisc.edu
711 for Wisconsin Relay (TDD)