Welcome to the webpage for the Master Gardeners of Ashland and Bayfield County.  Scroll down to learn about continuing education and volunteer opportunities as well as information about the Master Gardener General Training Course.  Also, be sure to check our favorite horticulture links.
Interested in becoming a Master Gardener? Please check out the  University of Wisconsin-Extension  online Master Gardener Program
For upcoming events and relevant information see below and check out
the Ashland/Bayfield Counties Master Gardener Association's  Facebook Page  
Visit the MG Statewide Extension Event Calendar for a listing of gardening and horticulture learning opportunities. Such as: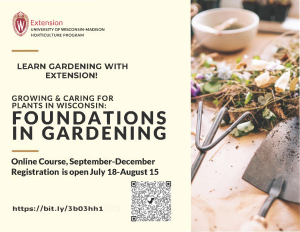 Ashland/Bayfield County MG Events – Free & Open to the Public
For more information contact: the State of Wisconsin's Master Gardeners website.