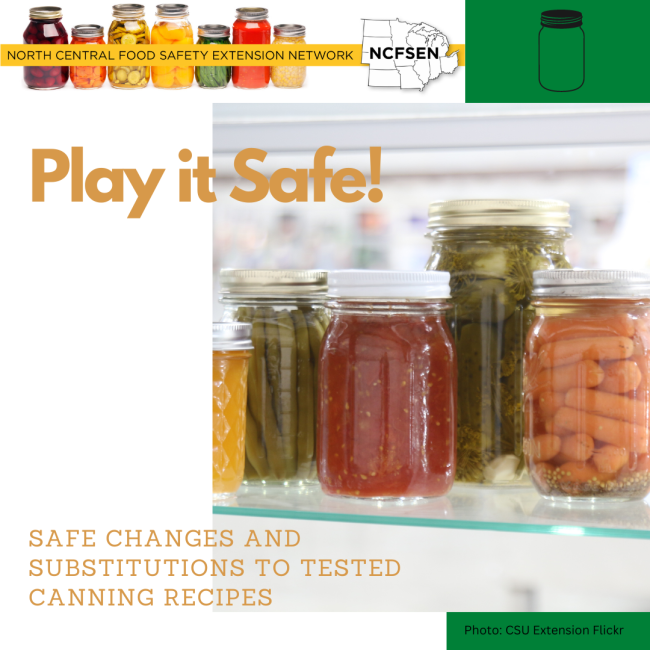 The safety of the food that you preserve for your family and friends is important. You can make some changes and substitutions to research-tested recipes while still protecting your family by following a few simple rules listed in the PDF below.
Play It Safe. PDF, 4 pgs, 435 KB
Fruit gels require the exact right amount of fruit, pectin, acid and sugar for a firm gel to form. Imprecise measuring, too-ripe fruit or failure to use the right type (or amount) of pectin can all contribute to too-soft or syrupy jam or jelly. Follow the steps in the PDF below to remake cooked jam or jelly for a firmer product.
Oops! Remaking Jams & Jellies. PDF, 2 pgs, 506 kb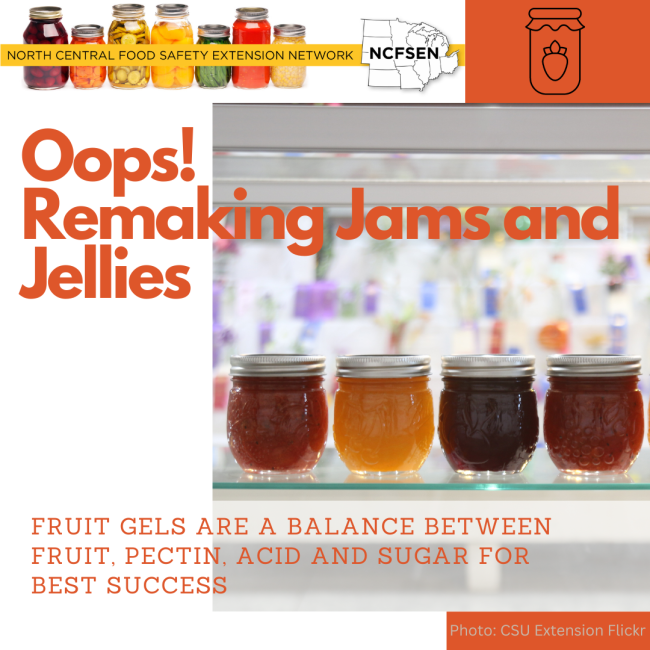 Preserve it Fresh, Preserve it Safe- Sept/Oct 2023
North Central Food Preservation Newsletters Jan/Feb 2022 (NO! to canning quick breads)
Want to start preserving your own fresh food, but don't have the equipment?
We have you covered! With our Food Preservation Equipment Lending Library!
We have available…
Water bath canners
Weighted & dial gauge pressure canners
Food dehydrators
Victorio food strainer (Great for tomato sauce! No skin, no seeds.)
Steam juice extractor (for juices, jellies, etc.)
Jerky kit
Food processor
Equipment can be borrowed for personal use by any person over 18 years of age. Loan of 3 to 7 days. Equipment is made available through Ashland and Bayfield County Human Development & Relationships programs & FoodWIse Programs. To reserve items, contact by phone:
UWEX Bayfield County
UWEX Ashland County

117 E 5th Street Bayfield County Courthouse,

Room 204

Washburn, WI 54891



201 West Main Street
Ashland County Courthouse,
Room 107

Ashland, WI 54806

715-373-3285
715-682-7017
Safe Preserving Recipes
Safe Produce
Starting a Food Business
Safe & Healthy Food for your Family Blog
This blog shares information about food safety, current food recalls, safe use of food preservation equipment, etc. Be sure to check out the SUBSCRIBE TO UPDATES VIA EMAIL section on the right side of this web page to stay up to date on all the latest food safety and preservation news. Also, the University of Wisconsin-Madison Division of Extension's Learning Store has a variety of food preservation and safety materials available on their website.
Pressure Canning Dial Gauge Testing
Did you know that you should test your pressure dial gauge every year, prior to the canning season? In addition to having your pressure dial gauge checked for accuracy, it should also be checked if any of the following conditions exist: cover has been submerged in water or dropped, gauge lens is broken or has fallen out, parts are rusty, pointer is not on "0", or for any reason you believe the gauge may not be accurate.
If you would like to have your dial gauge tested, there is no cost for the testing. You will only have to pay the cost of shipping. Presto will return the gauge in a timely manner via FedEx, free of charge. Be sure to pack the gauge well in bubble wrap or newspaper and include your name, address (no PO Box, as FedEx only delivers to numbered addresses), and phone number on a piece of paper inside the box. Mail to:
National Presto Industries
Attention: Gauge Testing
3925 N. Hastings Way
Eau Claire, WI 54703
Be sure to get a tracking number, as Presto is not responsible for lost or broken gauges. National Presto Industries is available with any questions you may have by calling: 715-839-2121 or 800-877-0441.Visit the links below for more information about testing pressure canner gauges and care and maintenance tips.
Pressure Testing Dial Pressure Canner Gauges
Pressure Canning Care & Maintenance
English:
The University of Wisconsin-Madison Division of Extension provides affirmative action and equal opportunity in education, programming and employment for all qualified persons regardless of race, color, gender, creed, disability, religion, national origin, ancestry, age, sexual orientation, pregnancy, marital or parental, arrest or conviction record or veteran status.
Spanish:
La University of Wisconsin-Madison Division of Extension proporciona acción afirmativa e igualdad de oportunidades en educación, programas y empleo para todas las personas calificadas, sin tener en cuenta la raza, color, género, credo, discapacidad, religión, origen nacional, ascendencia, edad, orientación sexual, gravidez, estado civil o de paternidad, historial de detención o condena, o estado de veterano de guerra.