Household Hazardous Waste Management – Clean Sweep
June 22, 2021 ~ 2pm to 6pm – Bayfield County Garage in Washburn, WI 54891
Electronics are not being accepted at the Bayfield County site.
Bayfield County will also be holding a one-time plastic wrap collection at the June 22nd event. (Ag plastics, marina wraps, etc.)Pre-Registration is required.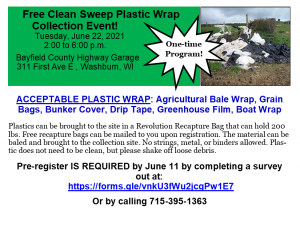 June 23, 2021 ~ 2pm to 6pm – WITC, Ashland, WI 54806
Any resident of the 9-participating counties that make up the Northwest Regional Planning Commission may participate in any of these events.*
The LaPointe event is limited to LaPointe residents only. Proof of residency will be required.
2021 NWRP 9-COUNTY Household Hazardous Waste Schedule
We have also compiled and update annually a booklet on where you can properly dispose of various hazardous materials during the year. Here is the latest edition: Household Hazardous Waste Disposal Guide 2020
Additional Resources:
Latex paints and water-based stains are not accepted at Cleansweeps since they're not considered hazardous. Here's a short video showing how to safely dispose of latex paint and cans.
A wide variety of statewide recycling and waste management information is available from the UW Solid and Hazardous Waste Education Center.
For medium to large quantities of materials to recycle on your time schedule check Waste Management's LampTracker which offers environmentally friendly, safe, and simple recycling solutions for fluorescent lamps, dry cell batteries, lighting ballasts, mercury devices, computers, electronics, sharps, bottles, cans, and paper, the cost includes pre-paid mailing.