University of Wisconsin, Division of Extension offers resources to help you enjoy your harvest and keep food safe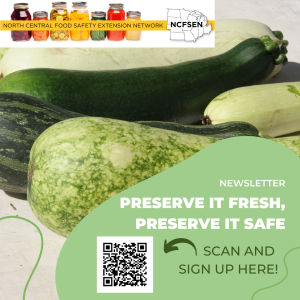 North Central Food Safety Extension Network (NSFSEN) Newsletters
July-Aug 2022 Food Preservation Newsletter (PDF, 2 pgs, 4MB)
Links of interest
Food Safety and Health The premier resource for food safety & health information for Wisconsin consumers. Your source for up-to-date and research-tested information on food preservation, food safety, starting a small food business, and hot topics in food safety and health.
UW Extension Food and Nutrition Publications Available to order or download and print from the UW Extension Learning Store.
Pickle Bill/Selling Home Canned Foods  Information about the "Pickle Bill" (Assembly Bill 229) , a recent law that allows people to sell certain home-canned foods, under certain circumstances without a license.  Find information to help you make sure you sell food that is safe and allowed by law.  Find out more  ..
National Center for Home Food Preservation
Wisconsin Nutrition Education Program
Dietary Guidelines for Americans
Food & Nutrition Information Center (USDA)
Nutrition and Physical Activity (CDC)
Meat HACCP  Research-based help for small meat and poultry processors.
To ask a question contact:
Dr. Barbara Ingham
Professor of Food Science, University of Wisconsin-Madison
Food Safety Specialist, Division of Extension
Phone: 608-263-7383
Email: bhingham@wisc.edu