Food WIse, formerly known as the Wisconsin Nutrition Education Program or WNEP, is a UW-Extension Program that helps limited resource families and individuals, eligible for Food Share,
Register to Join these free classes: https://go.wisc.edu/4wy08r
Virtual StrongBodies Fall 2022 (PDF, 1pg, 4MB)
Strong Bodies Flyer May 2022(PDF,1pg, 1MB)
The Bayfield County Health Department has information on Bayfield County Farmer's Markets on their website
Local Area Farmers' Markets | Bayfield County, WI – Official Website Or https://www.bayfieldcounty.wi.gov/880/Local-Area-Farmers-Markets
Farmers Market Brochure 2022 (PDF, 2pgs, 10 MB)
Choose, purchase & prepare nutritious meals & snacks based on the

* Make half your grains whole grains
* Eat a variety of fruits and vegetables
* Make lean choices from the protein group
* Make low fat dairy choices:
* get three calcium rich foods each day
* Choose & prepare foods with less fat, sugar & salt
* Choose healthy foods and beverages when eating away from home
Manage food resources, use thrifty shopping practices for nutritious foods, & improve food security:
* Determine resources for food
* Track food dollars and live within a spending plan
* Plan, buy and prepare affordable meals and snacks on a budget
* Buy locally grown fruits & vegetables at the Farmers Market or grow your own garden to enhance food security
Balance food intake with physical activity:
* Balance calories from foods and beverages with calories used
Keep food safe by practicing safe food handling, preparation and storage practices:
* Keep hands and surfaces clean
* Avoid cross contamination
* Cook foods to their proper temperatures
* Refrigerate perishable foods & leftovers promptly & store food safely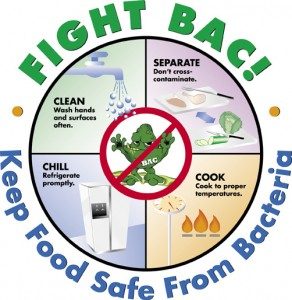 See Fight BAC for more information
To find out if you are eligible for Food Share, go to: www.access.wi.gov (Access to Support Services for Health & Nutrition)

This website is quick, and for people who live in Wisconsin to see if they might be able to get help through Wisconsin's health and nutrition programs

For more information on FoodShare Wisconsin: http://www.dhfs.wisconsin.gov/foodshare
If you have any questions regarding FoodWIse in Bayfield or Ashland County, please contact:
Stephanie LaPointe Bakker
FoodWIse Nutrition Coordinator
Ashland/Bayfield/Iron Counties
Home Office:
Extension Ashland County
Courthouse Rm. 107
Ashland, WI 54806
715-682-7017 ext 516
Fax: 715-682-7922
stephanie.bakker@wisc.edu
Want to start preserving your own fresh food, but don't have the equipment?
We have you covered!
With our Food Preservation Equipment Lending Library!
We have available…
Water bath canners
Weighted & dial gauge pressure canners
Food dehydrators
Victorio food strainer (Great for tomato sauce! No skin, no seeds.)
Steam juice extractor (for juices, jellies, etc.)
Jerky kit
Food processor
Equipment can be borrowed for personal use by any person over 18 years of age. Loan of 3 to 7 days. Equipment is made available through Ashland and Bayfield UW-Extension Family Living & WI Nutrition Education Programs.
To reserve items, contact by phone:
UWEX Bayfield County

117 E 5th Street

Bayfield County Courthouse, Room 204

Washburn, WI 54891

(715) 373-3285

UWEX Ashland County

201 West Main Street Ashland County Courthouse, Room 107

Ashland, WI 54806

715-682-7017