A list of acceptable items that can be brought to the Clean Sweep collections, and unacceptable items that will NOT be accepted at the Clean Sweep collections are listed below: 715/373-6104 ext 1.
Full, partial or empty cans of spray paint are being accepted.
Household LP tanks (up to the size for a gas grill) are being accepted.

To print or read more clearly: Clean Sweep Poster 2019 (pdf, 566KB, 1 page)
Household-Hazardous-Waste-Disposal-Guide-6-2018-PRINT (pdf, 2MB, 8 pages)
Washburn Show Choir-"Fire & Ice"-Recycling for Music Program (pdf, 81KB, 1 pg)
Businesses, governmental units and schools can pre-register by calling: Jen Barton, Northwest Regional Planning Commission at (715) 635-2197.
Permanent Prescription Drug Drop Box Locations are located in the Bayfield, Ashland and Iron County Areas. Prescription Meds Brochure (pdf,382 KB, 2 pages)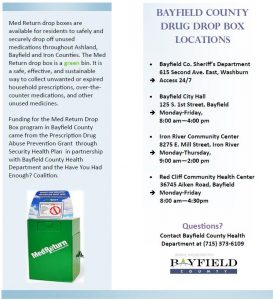 If you have any questions, please call the Extension Bayfield County Office at 715-373-6104 x 0.
Kellie Pederson
Community Development Educator
117 E. 5th Street
Washburn, WI 54891-9464
Phone: 715-373-6104 ext 1
Email: kellie.pederson@wisc.edu