A list of acceptable items that can be brought to the Clean Sweep collections, and unacceptable items that will NOT be accepted at the Clean Sweep collections are listed below: 715/373-6104 ext 1.
 Full, partial or empty cans of spray paint are being accepted. 
Household LP tanks (up to the size for a gas grill) are being accepted.
If you missed the Bayfield County Clean Sweep, don't worry!
Northwest Wisconsin residents and farmers can properly dispose of their hazardous chemicals at any of the remaining 10 County Clean Sweep Collections including:
Ashland County Clean Sweep ● Thursday, August 22, 2019
Ashland WITC Campus, South parking lot, 3 pm-7 pm
Ashland WITC Clean Sweep Poster 8-22-2019 (pdf, 1 pg, 570 KB)
2019 10 COUNTY HHW Poster_ (pdf, 1 pg, 143 KB)

To print or read more clearly: Clean Sweep Poster 2019   (pdf, 566KB, 1 page)
Household-Hazardous-Waste-Disposal-Guide-6-2018-PRINT (pdf, 2MB, 8 pages)
Washburn Show Choir-"Fire & Ice"-Recycling for Music Program (pdf, 81KB, 1 pg)
Businesses, governmental units and schools can pre-register by calling:  Jen Barton, Northwest Regional Planning Commission at (715) 635-2197.
Permanent Prescription Drug Drop Box Locations are located in the Bayfield, Ashland and Iron County Areas. Prescription Meds Brochure  (pdf,382 KB, 2 pages)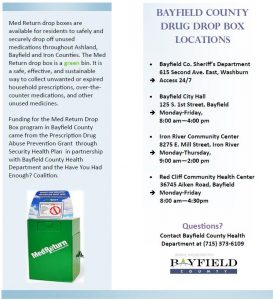 If you have any questions, please call the Extension Bayfield County Office at 715-373-6104 x 0.
Kellie Pederson
Community Development Educator
117 E. 5th Street
Washburn, WI 54891-9464
Phone: 715-373-6104 ext 1
Email: kellie.pederson@wisc.edu